Inkscape Knowledge Base
version 0.48.
The Inkscape window
When starting Inkscape, a standard Inkscape window is opened with a default blank page on center of the canvas window. A canvas is the drawing area of Inkscape, while a page is a predefined area of the canvas corresponding to the specific printable area of the Inkscape document. The canvas window is only the viewable area of the canvas or page.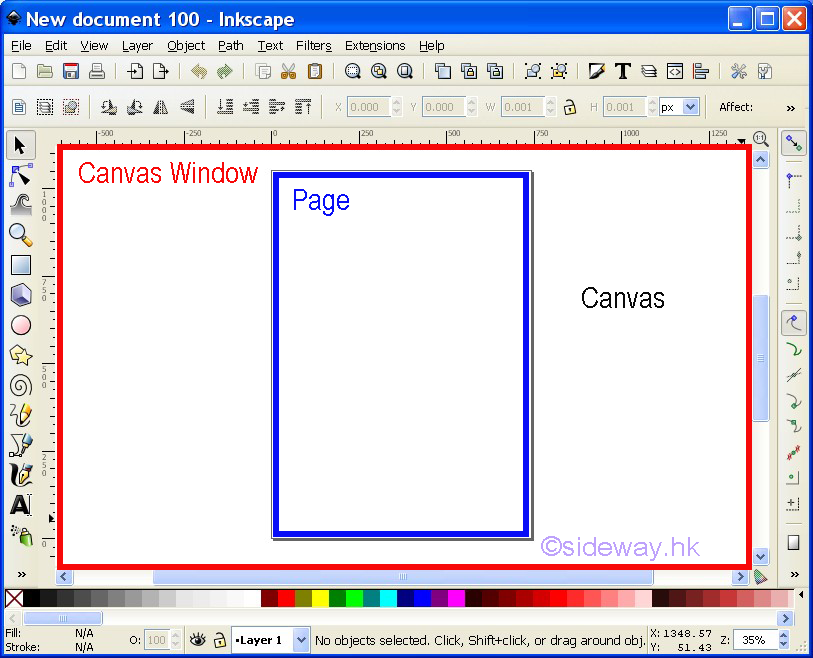 Besides the default page, other standard documents of different forms can also be selected by clicking menu File → New.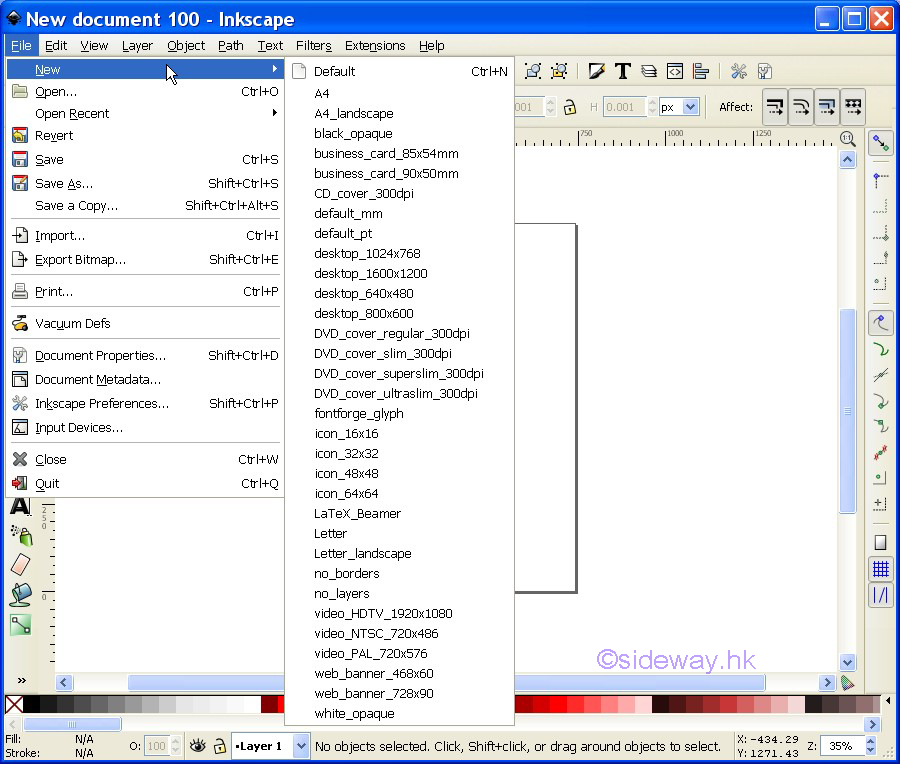 Apart from the standard menu bar of window, the other major areas on the Inkscape window are Commands Bar, Snap Controls Bar, Tool Controls Bar, Toolbox, Rulers, Scrollbars, Palette, and Statusbar. All these additional bars can be "show" or "hide" by clicking View → Show/Hide → the corresponding checkmark.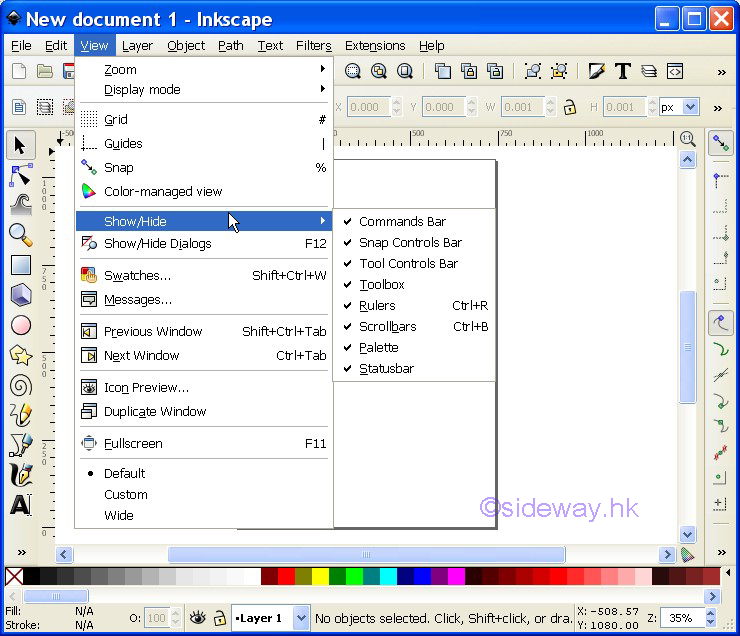 The menu bar on the Inkscape window provides the standard main window pull-down menus for accessing functions of Inkscape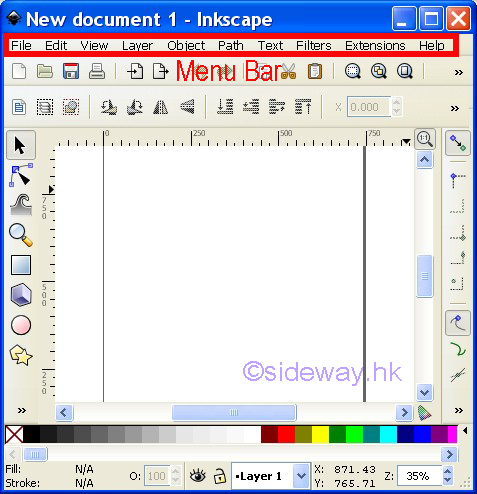 The command bar on the Inkscape window provides clickable command buttons for accessing funcional items located in the pull-down menus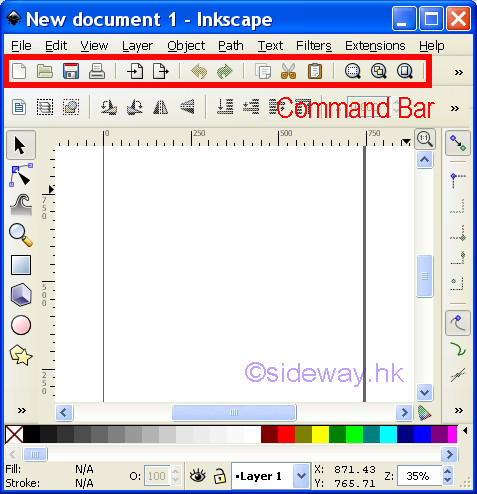 Another important bar on the Inkscape window is the ToolBox bar which provides clickable tool buttons for constructing figures. The 16 tools are Selector, Node, Tweak, Zoom, Rectangle, 3D Box, Ellipse, Star, Spiral, Pencil, Pen, Calligraphy, Text, Spray, Eraser, Gradient, Dropper, and Connector
The tool controls bar on the Inkscape window provides entry boxes and clickable command buttons for accessing additional funcional items with respect to the selected tool from the tool box.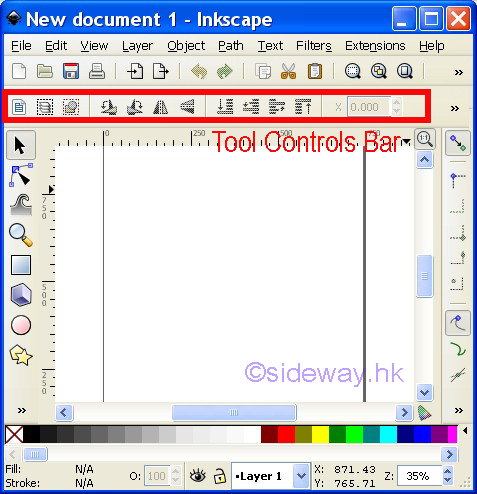 Around the canvas window, there are horizontal and vertical rulers on the top and left sides for showing the x- and y-axis coordinates of the canvas, and horizontal and vertical scrollbars on the bottom and right sides for adjusting the viewable area of the canvas or page.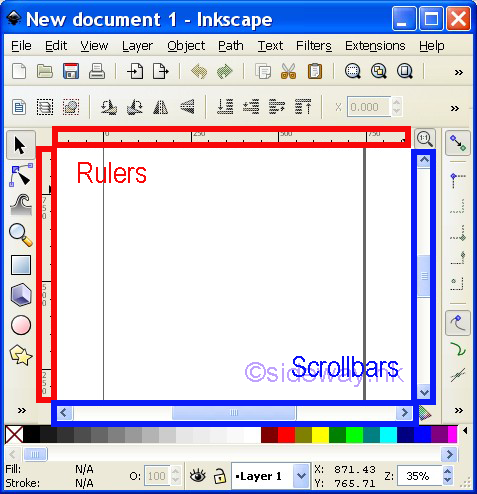 The palette or color palette with a scroll bar provides colors for using with tools or objects.
The snap controls bar provides clickable buttons for controlling the snapping method.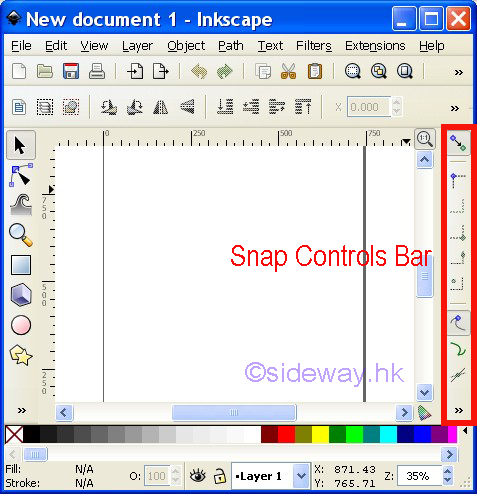 The statusbar provides helpful and informative details for understanding the current status of Inkscape.