Conservation of Charge
The net charge of a system and its surroundings cannot change. But charge can move from the systtem to surroundings or from surroundings to the system. However, charges can be created or destroyed in (+,−) pairs. For examples, electron-positron annihilation.
Charges of an Atom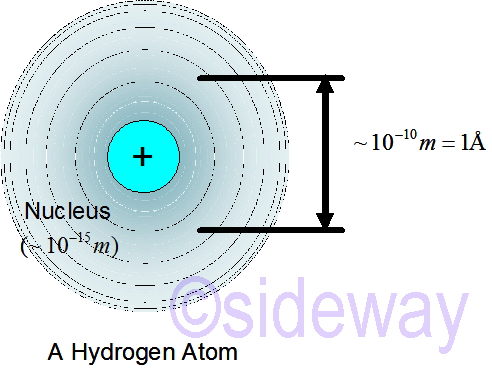 Charge of electron cloud equals that of nucleus implies neutral atom. If the electron cloud is centered on the nucleus implies electric field produced by electrons exactly cancels the field produced by nucleus.
Polarization of Atoms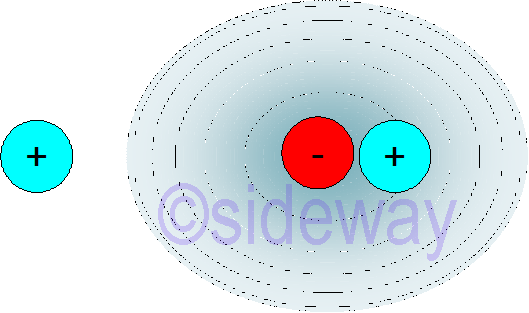 By placing a point charge close to an atom, point charge exerts electric field on the atom. Atom becomes polarized by electric field. An induced dipole can be represented as follow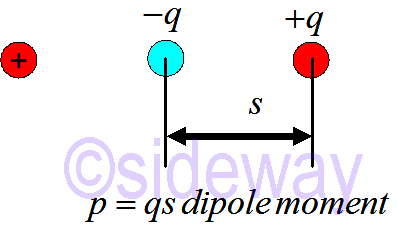 A more easily polarized atom has a larger induced dipole moment, which produces a larger electric field. And a more easily polarized atom experiences a greater attraction to a point charge. Polarization is defined as
𝑝=𝛼𝐸 where 𝛼 is polarizability of a material
|𝑝|=𝑝=𝑞𝑠
In an induced dipole, the distance between the charges is proportional to the strength of the applied field.
Force of a Point Charge on an Atom

A point charge first creates electric field 𝐸
0
at atom,
𝐸0=14𝜋𝜀0𝑞0𝑟2𝑟
Then the electric field
𝐸
0
polarizes atom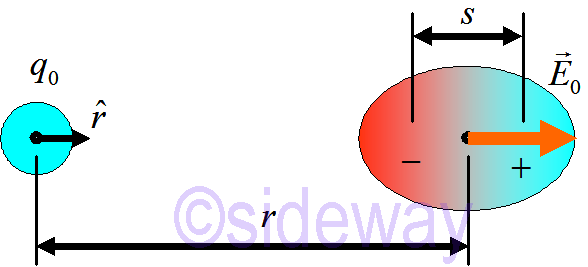 and the polarization is
𝑝=𝛼𝐸0=14𝜋𝜀0𝛼𝑞0𝑟2𝑟
The induced dipole in turn creates field
𝐸
𝑎
at point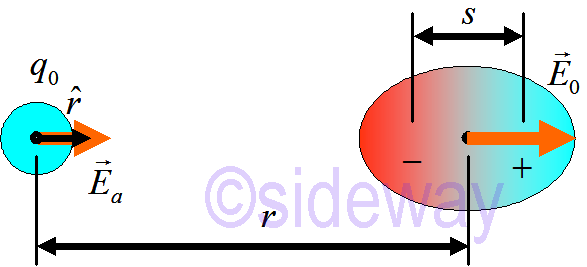 The electric field is
𝐸𝑎=14𝜋𝜀02𝑝𝑟3=14𝜋𝜀02𝛼𝐸0𝑟3=14𝜋𝜀02𝛼𝑟314𝜋𝜀0𝑞0𝑟2𝑟=14𝜋𝜀022𝛼𝑞0𝑟5𝑟 ~1/𝑟5
The electric field
𝐸
𝑎
due to the induced dipole exerts force on point charge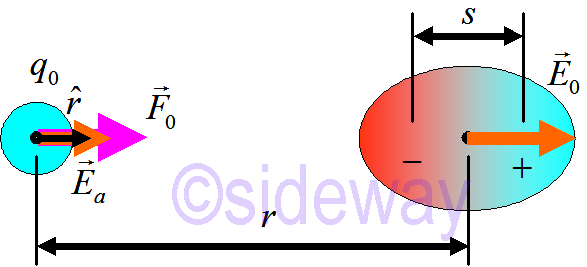 The force is
𝐹0=𝑞0𝐸𝑎=14𝜋𝜀022𝛼𝑞20𝑟5𝑟
By reciprocity, the force
𝐹
𝑎
that the point charge exerts on atom will be equal and opposite to the force
𝐹
0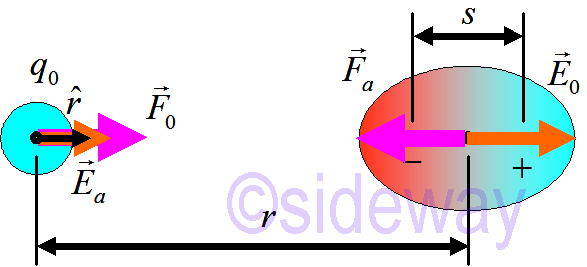 The force is
𝐹𝑎=−𝐹0=−𝑞0𝐸𝑎=14𝜋𝜀022𝛼𝑞20𝑟5𝑟
Neutral atoms are attracted by charges with interaction strength ~1/𝑟
5
Source and Reference
https://www.youtube.com/watch?v=rb_ybczb7Ig&list=PLZ6kagz8q0bvxaUKCe2RRvU_h7wtNNxxi&index=3